SEEN Group partnered with British fashion retailer FLANNELS to concept, develop, design and execute the brand's perspective on Beauty and launch FLANNELS Beauty in July 2021.
A 360 partnership with SEEN Works, Beauty SEEN and Community x SEEN specialist services, SEEN Group built the end-to-end FLANNELS Beauty proposition and integrated marketing launch plan – including brand strategy, brand identity, logo, typography, image style and art direction – rooted in extensive consumer insight and true beauty expertise.
Key launch outputs included the development and production of all launch campaign content, through to execution of the comms launch strategy to deliver industry leading media coverage including features in The Sunday Times Style and WWD.
BEAUTY STARRING YOU
The consumer is at the heart of FLANNELS Beauty and it's this insight that informed our campaign concept: "Beauty Starring You"
Our research began with the FLANNELS Beauty customer, too. From our extensive consumer research, steered by Community x SEEN, we established five consumer profiles – Apple, Ty, Alicia, Stacy and Rebekka – and then worked with a videographer and director to bring them to live in a stylish advert for TV.
Beauty should be fun and exciting, and it should put the consumer centre stage, so we made them the most important part of the campaign and the shopping experience.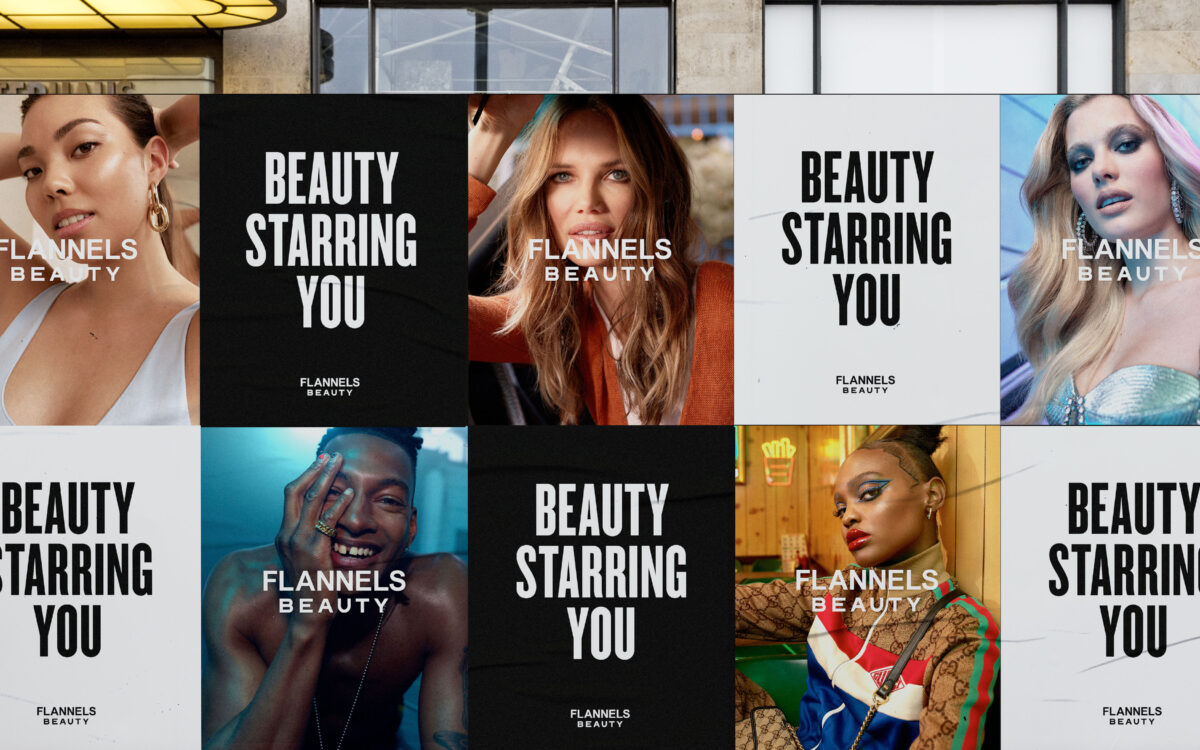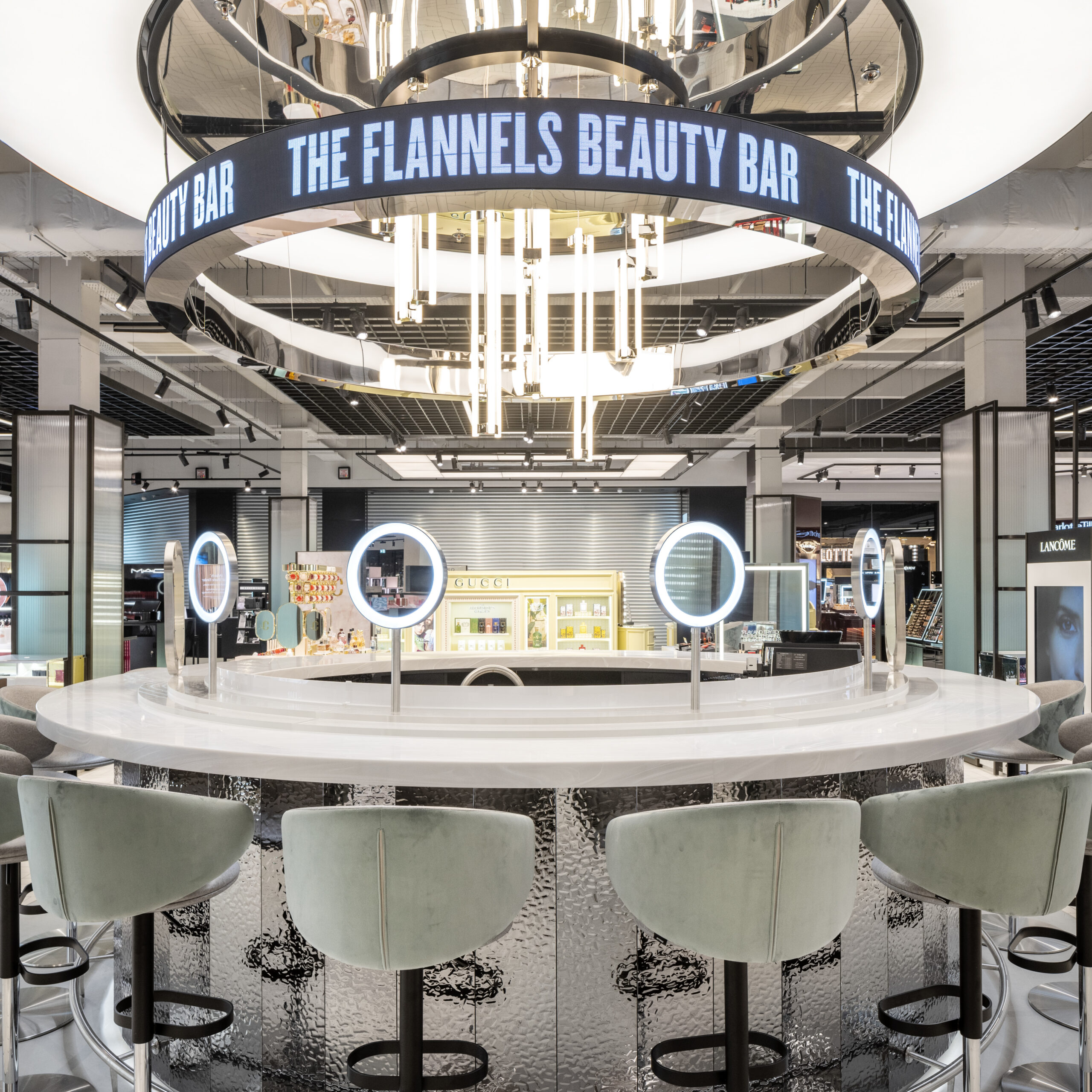 FLANNELS BEAUTY BAR
We wanted to understand how we can shop better and how we can make the experience of shopping in store a memorable one that customers will want to repeat over and over again.
The FLANNELS Beauty bar couldn't be like any other space in any other store, it's uniquely FLANNELS. It serves a space for customers to familiarise themselves with new brands and products, make new discoveries and learn about individual brand offerings. Plus, it's an opportunity for them to try products and be part of a conversation with a true beauty expert.
The beauty bar is a space that can facilitate brand takeovers so brands can get up close with their customer. It serves bite sized beauty and allows for curated edits, whether that's a 'Great Skin Edit' or a 'Bridal Edit'. Ultimately, this is middle ground for FLANNELS beauty experts to help guide the consumer on their journey of beauty discovery.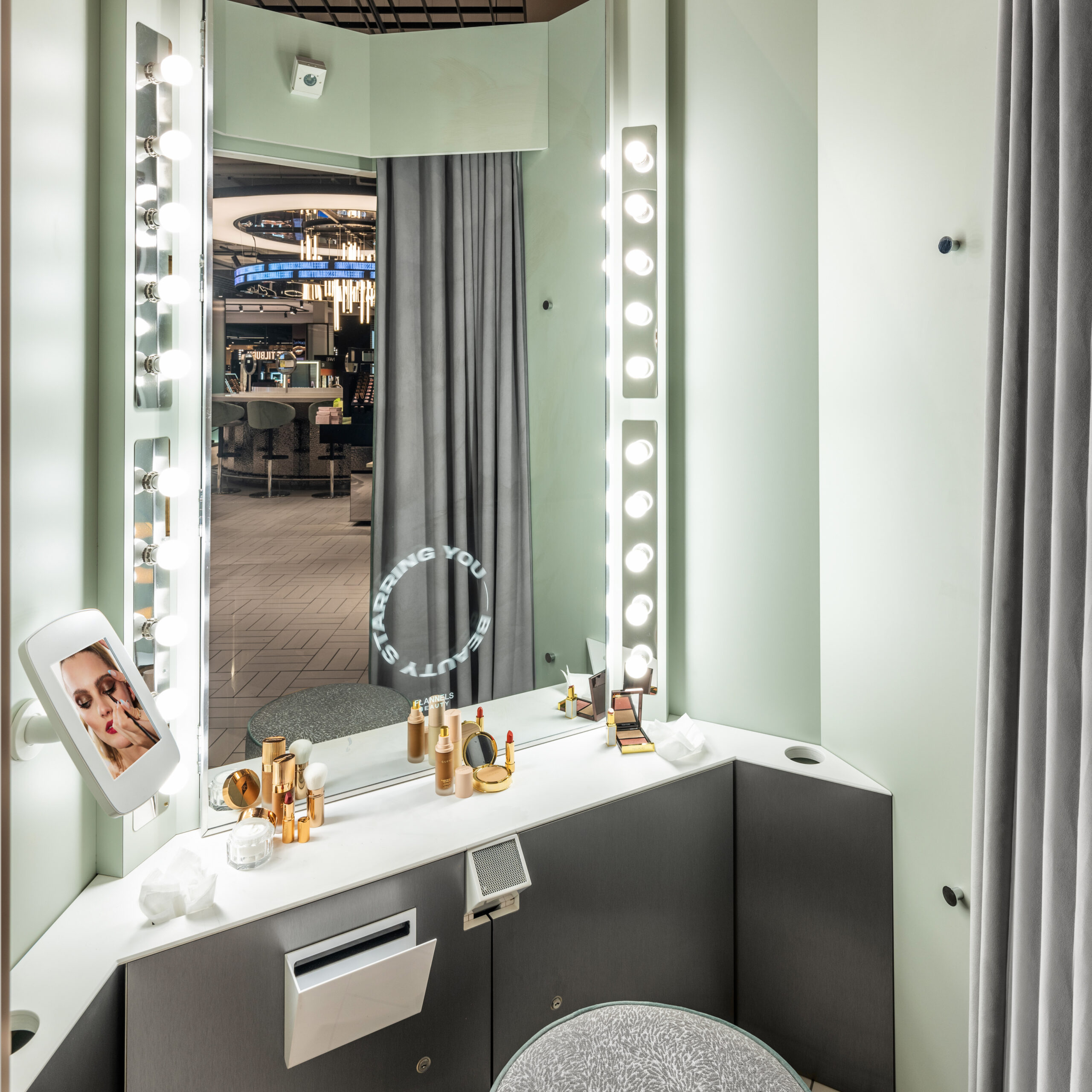 BEAUTY CHANGING ROOMS
Together with FLANNELS we wanted to revolutionise the tired 'try before you buy' experience and instead reinvigorate consumers, inspiring them to get experimental and enjoy beauty products.
FLANNELS renowned fashion heritage served as inspiration for the Beauty Changing Rooms, a quiet and private space for customers to play and experiment with the in-store product offering.
Our consumer research told us that in general beauty customers can feel under pressure to make quick decisions when shopping in store, while customers with physical mobility issues can feel excluded from the fun in store as they're often not able to reach and interact with the point-of-sale displays. The Beauty Changing Rooms offer a sealed off sanctuary to test beauty products and take pictures and, importantly, they are spacious enough for a wheelchair. This is a beauty environment and celebrates everyone.

CURATING A BEST-IN-CLASS AMBASSADOR PROGRAMME
We helped to identify and curate a team of four industry experts – including InTheFrow, Melissa's Wardrobe, Jamie Genevieve and Nikki Makeup – to work with FLANNELS Beauty on exclusive edits and in-store and online events. Mindful of regional considerations, our team of ambassadors reflect every element of the industry.